The All New Gold Plexi front Panel Version 2 Tone Of The Gods Pedal.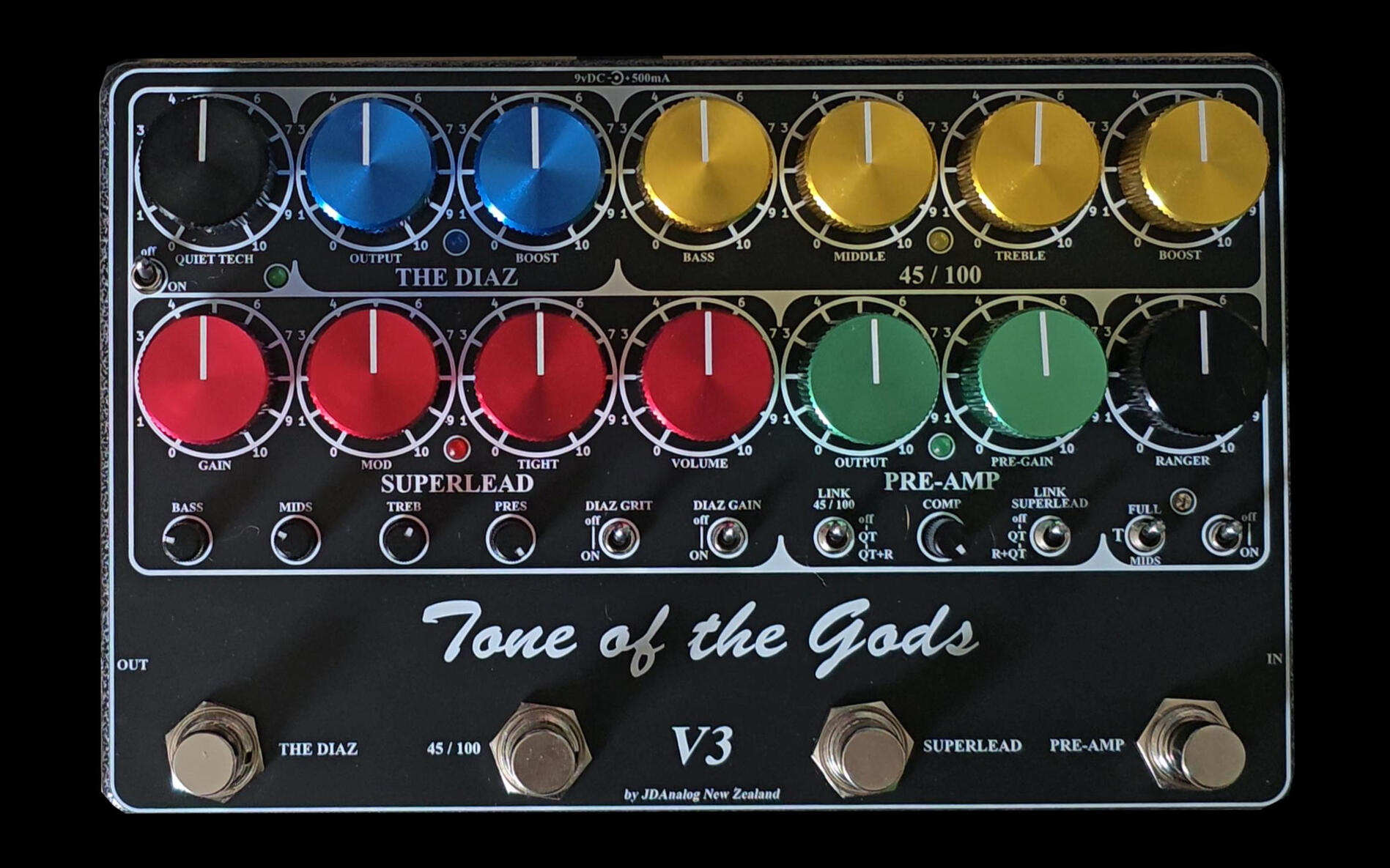 If you dont use paypal, contact us for other ways to pay.
$349US + $39 Fast Express Freight
You can also order the pedal with the Gold front and Silver Knobs, or the older style black front panel with either Gold knobs or Silver knobs. Straight after purchase, please let us know if you want any changes from the stock Gold Front and Gold Knobs.
Any other questions please scroll down the page to the contact section.
---
---
The pedal does not come with an adapter.
You will need a good quality boss style 9volt Negative Centre with 300mA+ output.
It will not run on batteries due to its high internal voltage.
More info within the Quick Start Manual and Deep Dive Manual above
Contact Us
Check out the Epic Pete Thorn Demo
A New Elevated Jam Track from the UK. Get out your Guitar and Jam over the top. ENJOY!
The Mike Herman's Demo - Simply Beautiful!
The amazing Brett Kingman Demo - Lots of pedal info right here
Fantastic "In The Blues" Youtube Channel Demo
Fantastic Henning Pauly Demo from Germany - EytschPi42 YouTube Channel
When an Aussie gets a Big Box of Kiwi Boost - Lets see what happens
Check out the fantastic Elevated Jam Tracks Tone Of The Gods Pedal Feature below
Have a jam over top if you like!
I have linked up with Dopez Tracks and use many of Yordis Backing tracks to make my own demos into many different amps using the Pedal. Here is Yordi himself showing off the pedal.
More Pro YouTube Pedal Demos like the ones above will be coming over the next few months
----------------------------------------------------------
Check out the WorkShop Jam Sessions Page in the link below for a whole lot of jam sessions we did at the work shop. The building of this pedal has been a labor of love, and having fun is the name of the game. Also you will find user reviews and user pedal board pictures. ENJOY!
The below video is the New Release Pedal that is Coming late August for JDAnalog - A companion pedal for the Tone Of The Gods. The tone is spot on 1968 univox uni-vibe. The pedal will come in copper coated case and gold metal plexi front panel like the Tone Of The Gods pedal with Marshall knobs. All high-end internal components. The entire pedal is real mcoy 1968 classic deep lush throb and genuine custom incandescent bulb set up with custom made LDR circuit and preamp along with a very unique dual switching system so you do NOT need an external expression pedal. Enquire if you have any questions about this pedal.
This is the concept art of the new release pedal coming soon.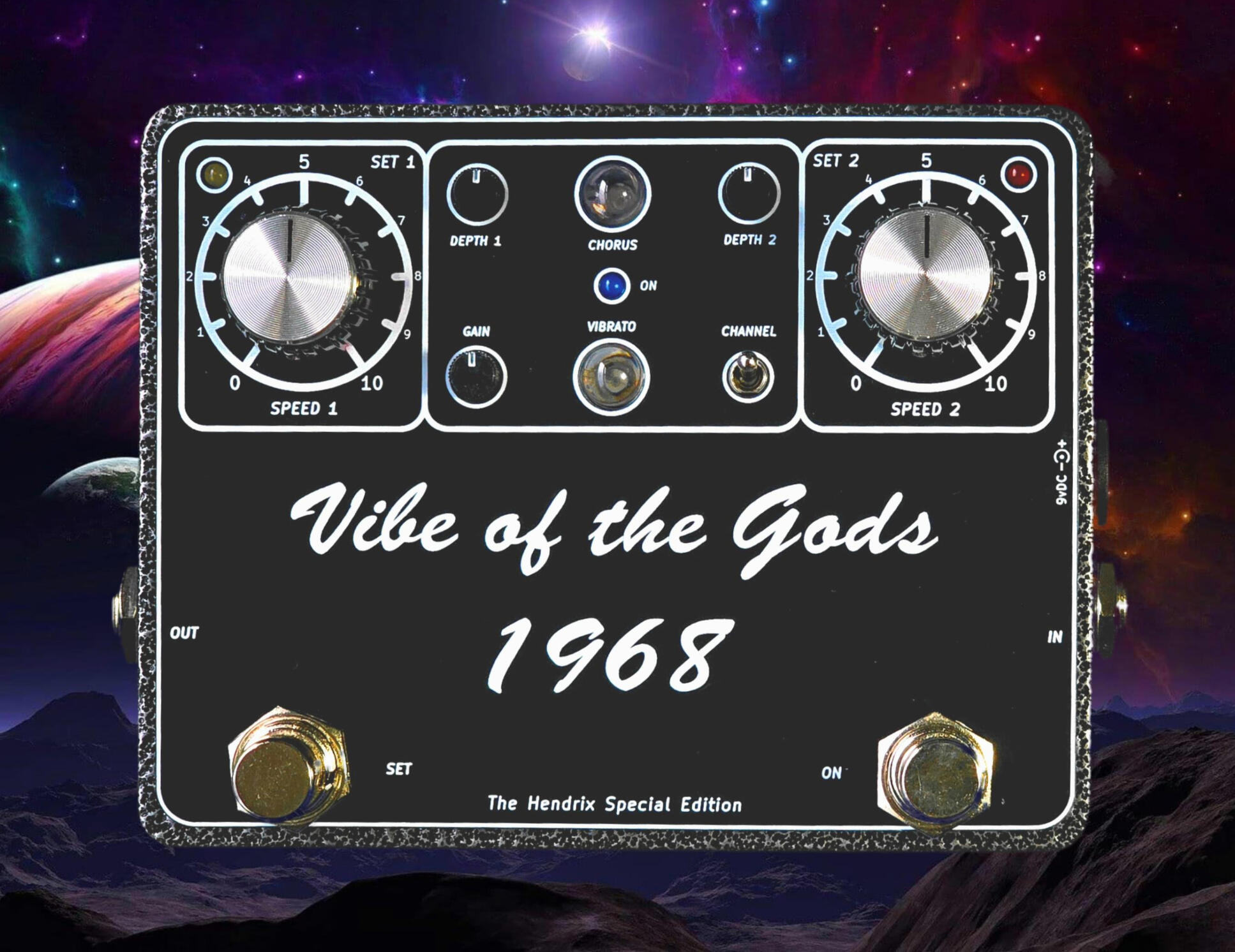 Humbucker Tone Captures
Single Coil Tone Captures
Below Are some Older Pre-Release Prototype tone tests. Low quality tone capture, but still interesting
Jump in and grab yourself a low serial number! :-)
FEEDBACK BELOW
REVIEW From Stafford USA: A couple of weeks ago I saw a post on this facebook page from one of the members (JDAnalog Effects Pedals) about a pedal they created called Tone of the Gods. I have to admit that the name and the Marshall knobs caught my attention so I investigated this pedal. So I went to his Website I read the users manual, I watched all of the 15 workshop videos and I couldn't stop thinking about the Tone and sustain I was hearing so being a gear junkie I ordered one before he had a chance to reply to my questions (Staking a fuzz with Tone of the Gods pedal). I received the pedal this past week and I have spent hours playing it... Tone Of The Gods is an accurate name for this pedal. It has a channel that is a Plexi I swear! It is a Pre-Amp, Over-dive, Boost Tone Monster for sure. I LOVE THIS TONE Of The GODS pedal and I am fortunate to have found this pedal. you can stack these channels and it all sounds amazing.
John Costello - I bought the #11 pedal from the Brett Kingman youtube demo video. Seriously blown away, and I have only had it a day or two. I gave it a great run through on my 4x10 Fender Deville and I'll be running it through my 1974 50 watt JMP this weekend.....Or maybe both! It's an extremely well made and robust unit. One of my friends said it looked like 12 pints of Guinness on a tray at first glance! I'm Irish so I get that! I'm running it at 9v from my Cioks unit. It doesn't come with a power supply. From what I know Pete Thorn and others will be doing more demo's soon. I'd love to see Tim Pierce or Dan and Mick from 'That Pedal Show' give it a lash. It seems equally at home with my Strats as it does with my PRS's (HB's) guitars. I know there are more and more great drive pedals released every day but this could be a modern day classic some day. P.S. I have no affiliation whatsoever with JDAnalog......Just know a great pedal when I hear one! Peace.
REVIEW from AUSSIE: I bought my "Tone Of The Gods" pedal from Jason at JD Analog last week and I expected it to be brilliant based on the demo video I'd just watched by Brett Kingman on his YouTube channel. I was NOT disappointed! This is an amazing and totally unique pedal. The "Tone Of The Gods" arrived very quickly and was very well packed. First impressions when I unpacked the pedal? Well, for a start off it's built like a Tank, but in a good way. Very sturdy construction and obviously built to last. In fact, I believe it comes with a 5 year warranty. The Tone Of The Gods looks great and the layout of the control knobs and switches is very practical and aesthetically pleasing. I really like the vintage look with the classic Marshall style control knobs. The 4 foot switches are very high quality and really solid. And there's no nasty noises when switching any of them on and off. The LED's look good too. But how does the "Tone Of The Gods" pedal sound? Well, simply magnificent! I can't stop playing it. This pedal is totally addictive and it completely blows away many of my other overdrive and "Amp in a Box" pedals. In fact I'll be selling quite a few of my old pedals because the "Tone Of The Gods" has made them completely redundant and surplus to requirements. So, the "Tone Of The Gods" is worth every cent in my opinion. In fact, I'll probably end up better off financially by the time I've sold some of my other superfluous pedals. I have now had some time testing the "Tone Of The Gods" pedal with my various guitars and a couple of very different amplifiers. One amplifier was a very clean Fender style 50 Watt Head (6L6 Output Valves) through a closed back Celestion Alnico Cream 12 inch cab. The other amplifier was a slightly crunchy sounding clone of a Matchless 30 watt head (EL84 Output Valves) through a Celestion Alnico Gold 12 inch closed back cab. I played a Stratocaster with SSS pickup configuration, Telecaster, Les Paul with P90's, Les Paul with Humbuckers, SG with Filtertron pickups and a Strat with Mini Humbuckers through both of these amps with no reverb, delay or any other FX. I just wanted to hear what the "Tone Of The Gods" pedal was doing. It didn't take me long to realise how much better everything I was playing sounded. This pedal worked equally brilliantly with my clean and crunchy amps and all the different guitars and pickup configurations I mentioned earlier sounded magnificent. Nothing sounded bad. I just couldn't stop playing it and experimenting with all the options it has. It sounds incredible, so articulate, so rich, so much bottom end but also sparkling tops. And the GRIND (overdrive) is gorgeous. Really thick and rich with great overtones when pushing the valve amps input. Searing Lead & Fat Punchy Rhythm tones. And yet, If you roll back the volume on your guitar it cleans up beautifully. Nothing is lost. It's an absolute Tone Monster. I love it! I've finally found my sound! I spent a long time adjusting and combining the PREAMP section with the GRIND section and also adding the HV BOOST section. It's an incredibly responsive pedal and all the sections interact beautifully. The combinations are seemingly endless and there's an excellent detailed PDF Manual and a Quick Start guide that you can download as a great starting point for your journey into "TONAL BLISS''. The range of sounds you can get is unbelievable. I should also mention the Master Volume Control because it's a great way to set up another switchable level control. Very innovative but also intuitive to use. You'll quickly get the hang of how everything interacts. I've been playing for a long time, mostly Blues and Classic 60's & 70's Rock and back in 1978 I used to have an old Marshall JMP 2104 Master Volume Lead 50 Watt 2 x 12" Combo. I have never found Lead & Rhythm Tones like it since.... Until Now. I've also owned a JTM45 and various Marshall Amps including a JCM 800 and a DSL 401 Combo. You can get all of those amp tones out of this pedal. But it's not just Marshall tones. This pedal sounds awesome with my Fender and Matchless style amps. Personally, I think it would work with anything. I have to say that I'm not a Metal player but I reckon you could get that sound out of this pedal with the right amp and speaker combination and maybe a distortion pedal. Jason has done an amazing job. And I really hope that he gets the recognition and accolades he deserves for this masterpiece. And no, I'm not being paid to write all of this gushing complimentary stuff. I am now a genuine believer. But you need to find out for yourself. So watch Brett Kingman's demo video on his YouTube channel for a start. And I believe Pete Thorn and Shane from "In The Blues" are doing demos soon. And some other highly regarded Guitarists will also be doing demos of the "Tone Of The Gods" pedal in the near future.
So, enjoy.
Regards, John Scarratt
REVIEW: Hello Jason, Just wanted to take a moment and tell you that now that I have been played your Tone of the Gods pedal for a few weeks, I think that it is truly amazing. So many tones, all of them excellent. And, I love that I can get beautiful clean and very crisp well defined tones as well as heavy grinding tones. Thank you so much for this awesome pedal!! Eric Raphael, McMurray, Pennsylvania, USA
Tried Tone of the Gods pedal today and my god - With the VX100 Super Kraken channel 1 it's amazing -
With pre amp focus engaged on the SK and pre amp/grind/HV boost and master on the Tone Of The Gods I created a plethora of tones ranging from a JTM-45 800/900 Marshall and everything in between - All I can say is Sonic Joy!
What an amazing pedal I can't say enough to do it justice - For the price it's a steal - I've tried more expensive pedals that are not of this quality so to anyone thinking of purchasing this- I would say go for it - You won't be disappointed!
David
Norwich UK
I've got #32 and I love it. Soooooo flexible. It makes everything sound bigger and better. The thing that can't really be demonstrated on YouTube is the feel. The preamp, as Brett suggested, is fantastic at giving the player the feel of playing through a high powered, expensive amp. The HV Boost is amazing for tone shaping, and as another clean boost option, and the Grind is fantastic for punching a solo through a mix. It does it all. If I could keep only one of my many pedals, it would be this pedal. Thanks JDAnalog, and Brett, for the pedal and the great demo. Shaun From Melbourne
Great selling and awesome pedal. It's 3 pedals in one, so don't let the price scare you away. This pedal makes every amp I own into a multi channel delight!Herb Genelly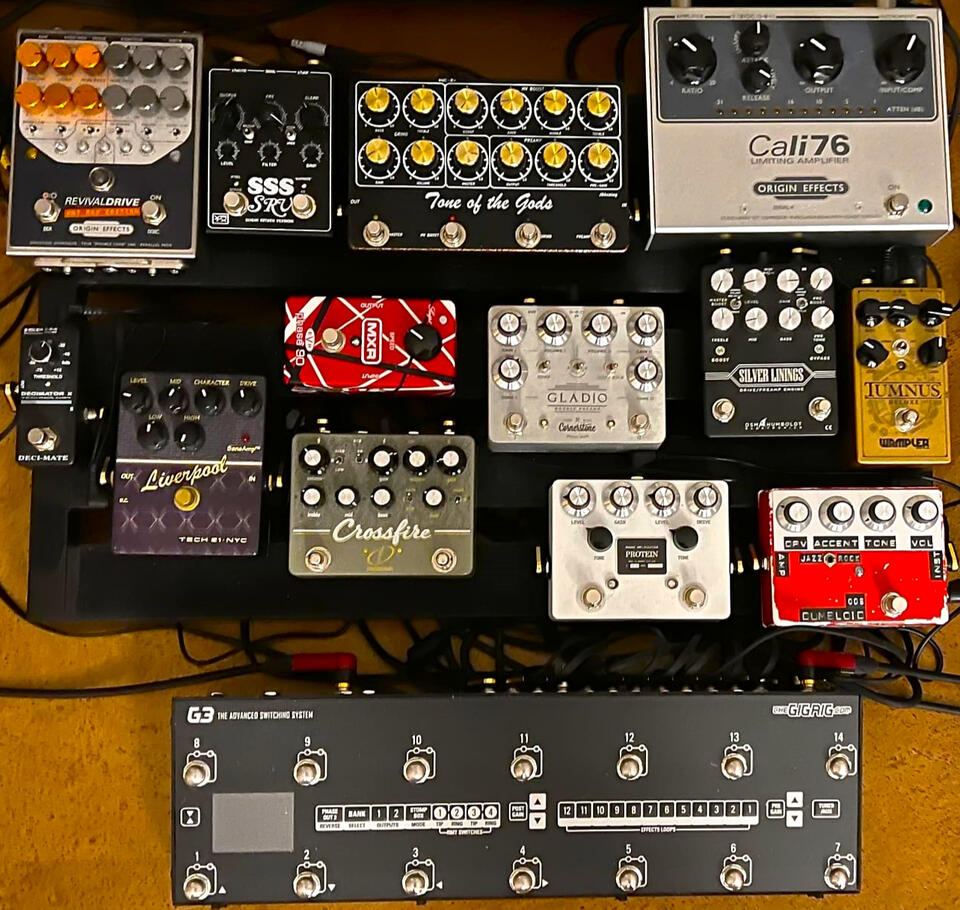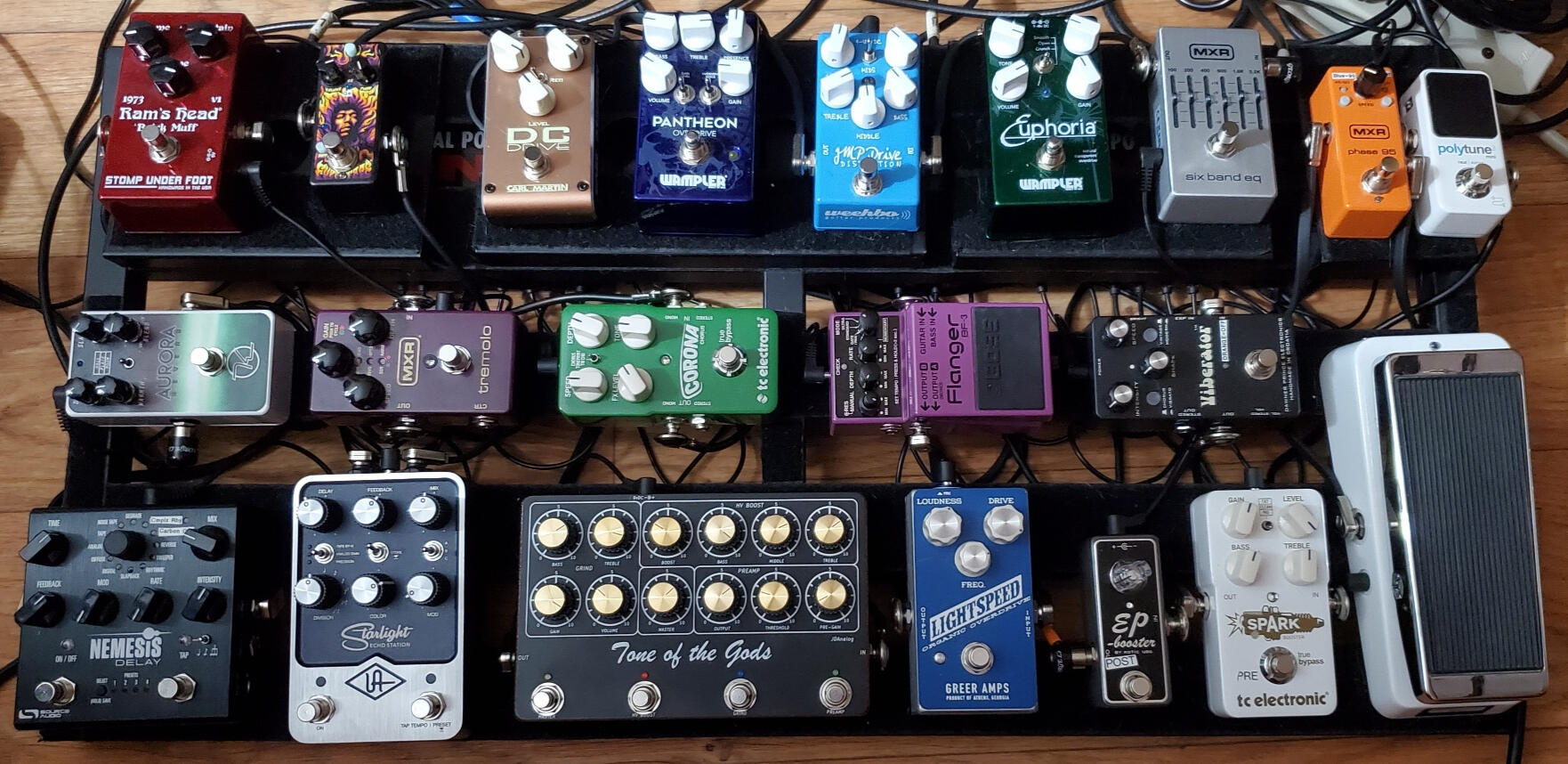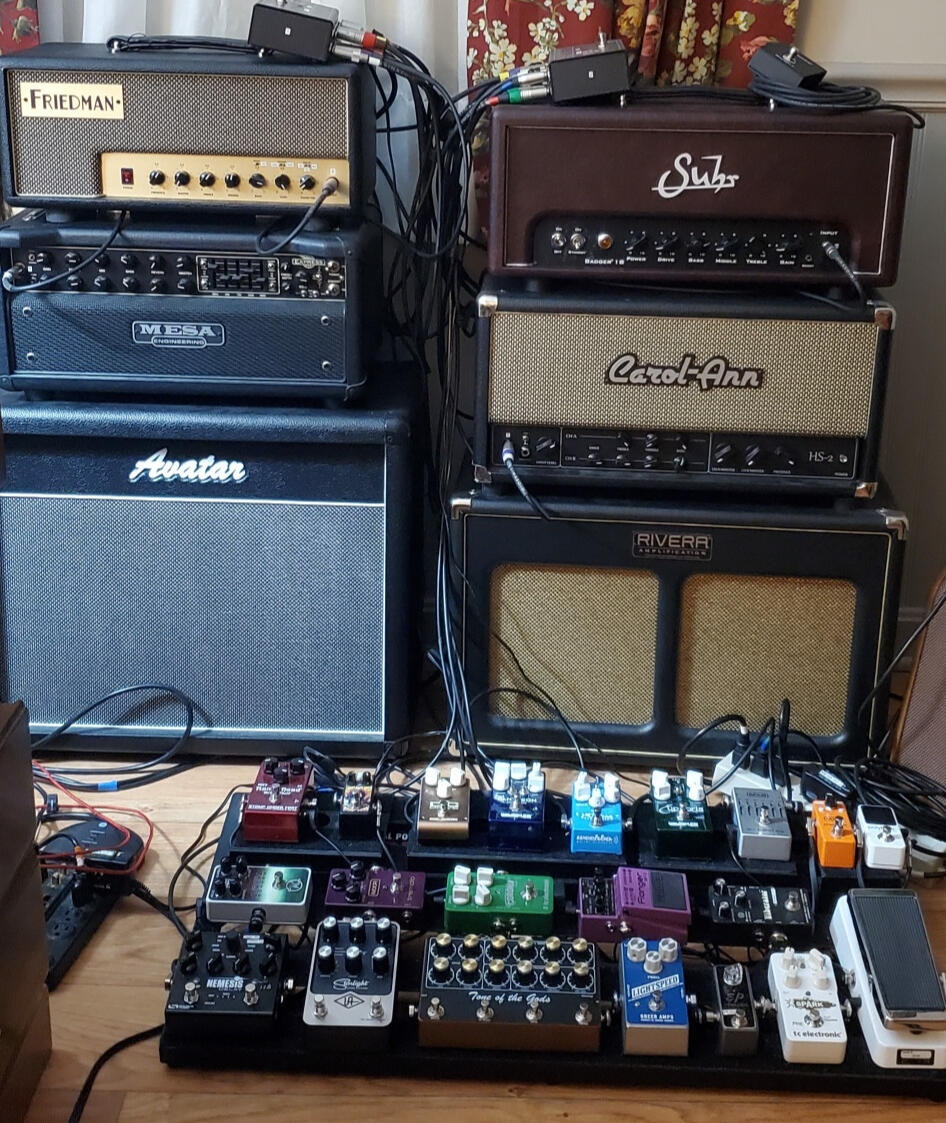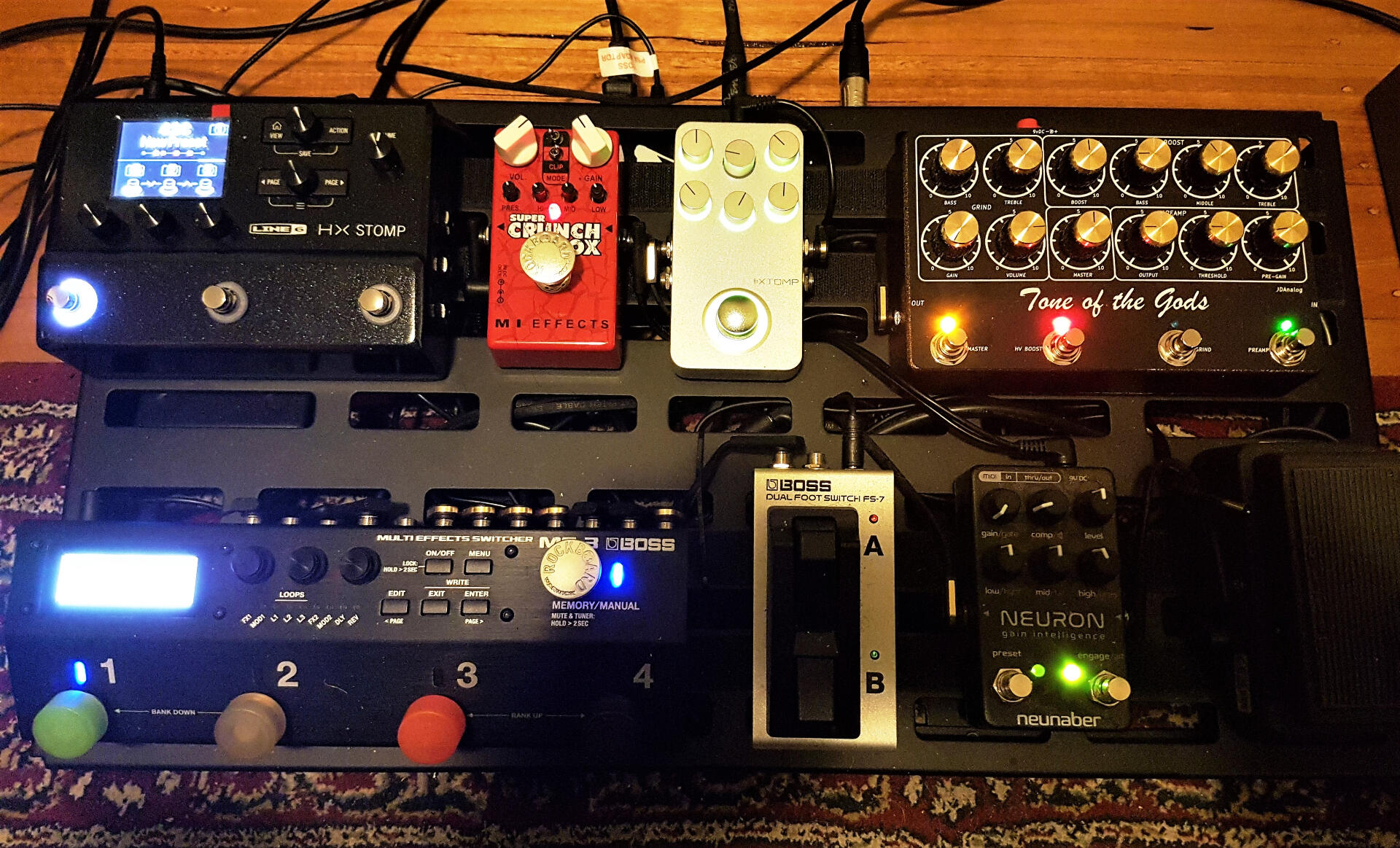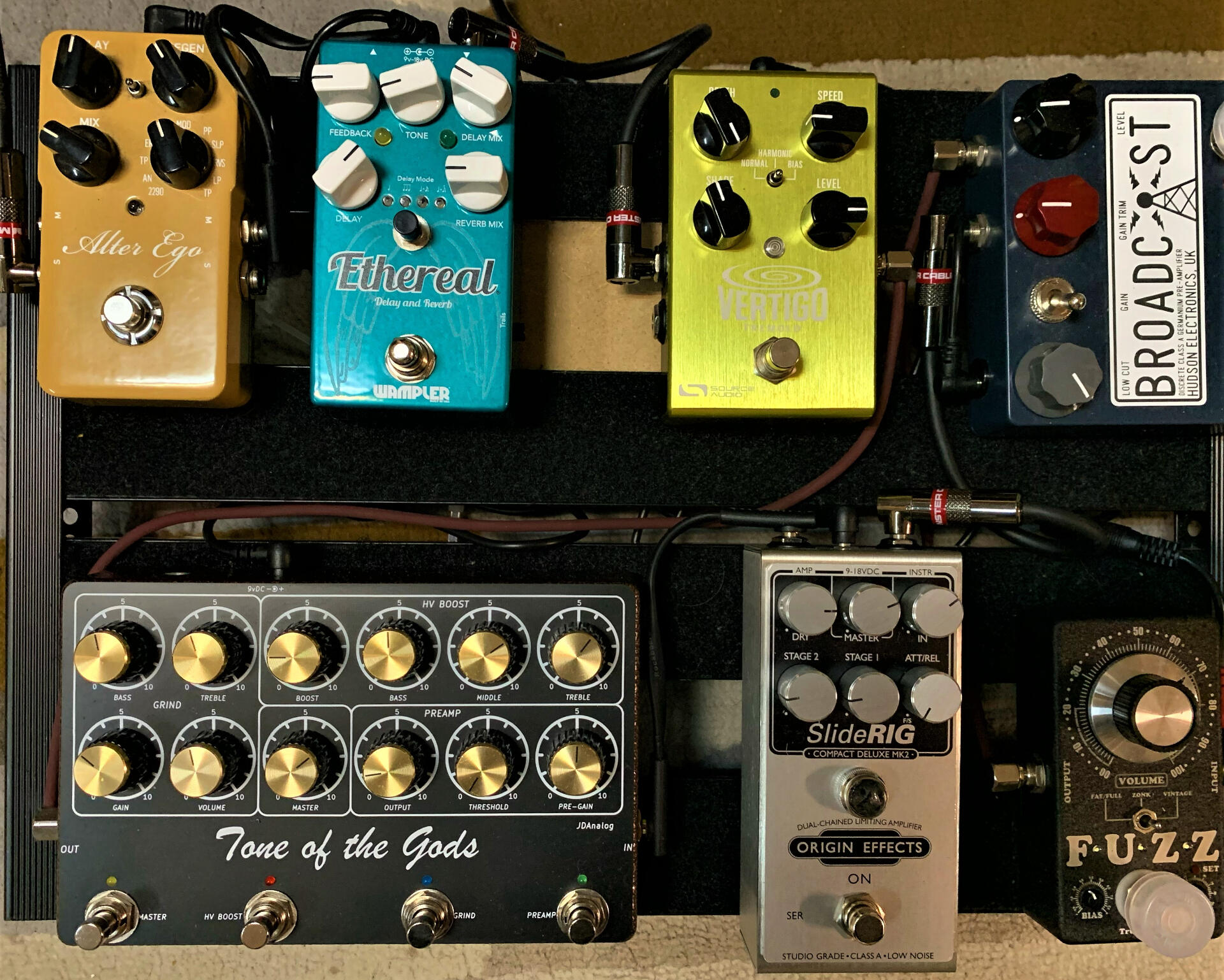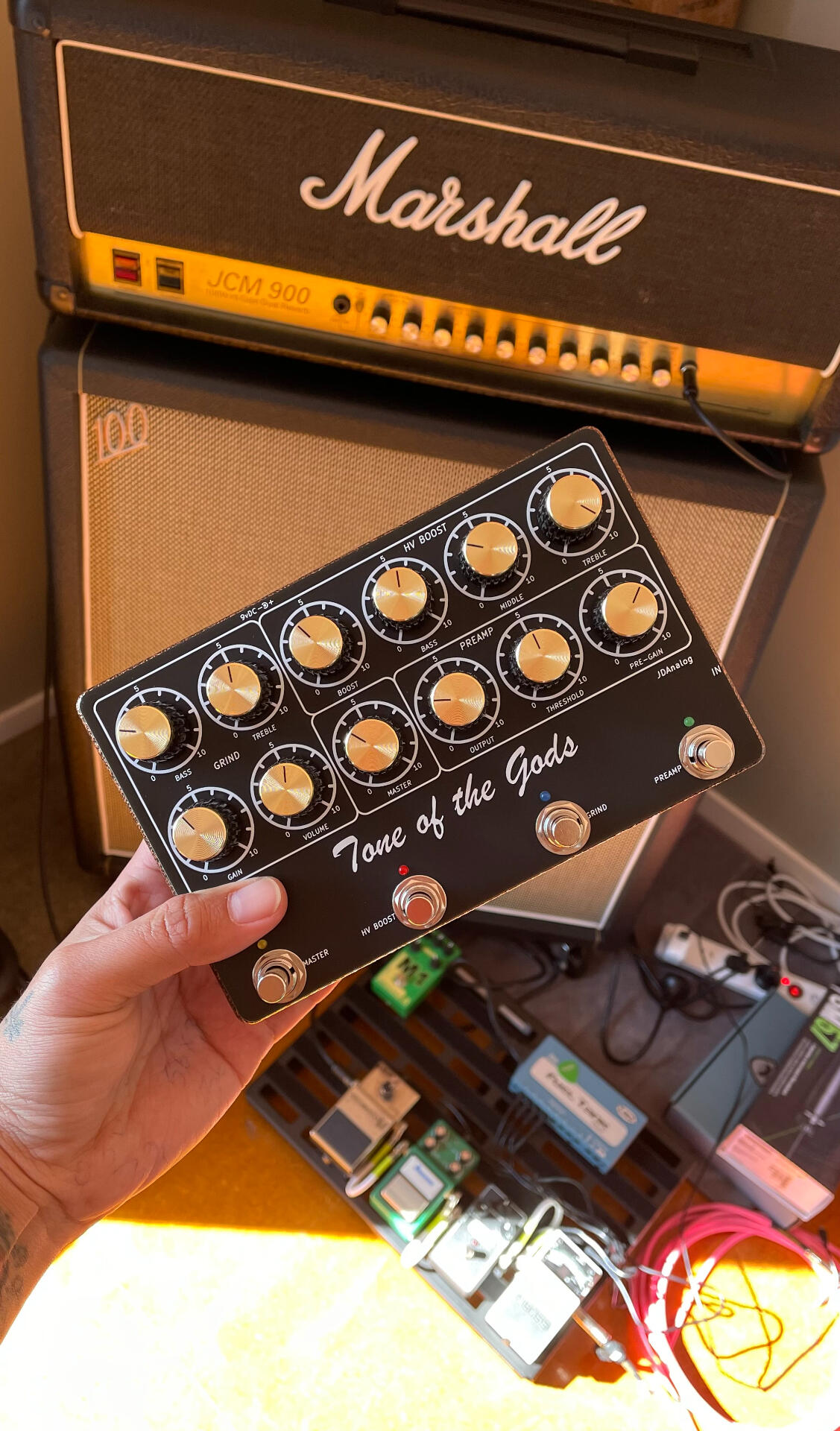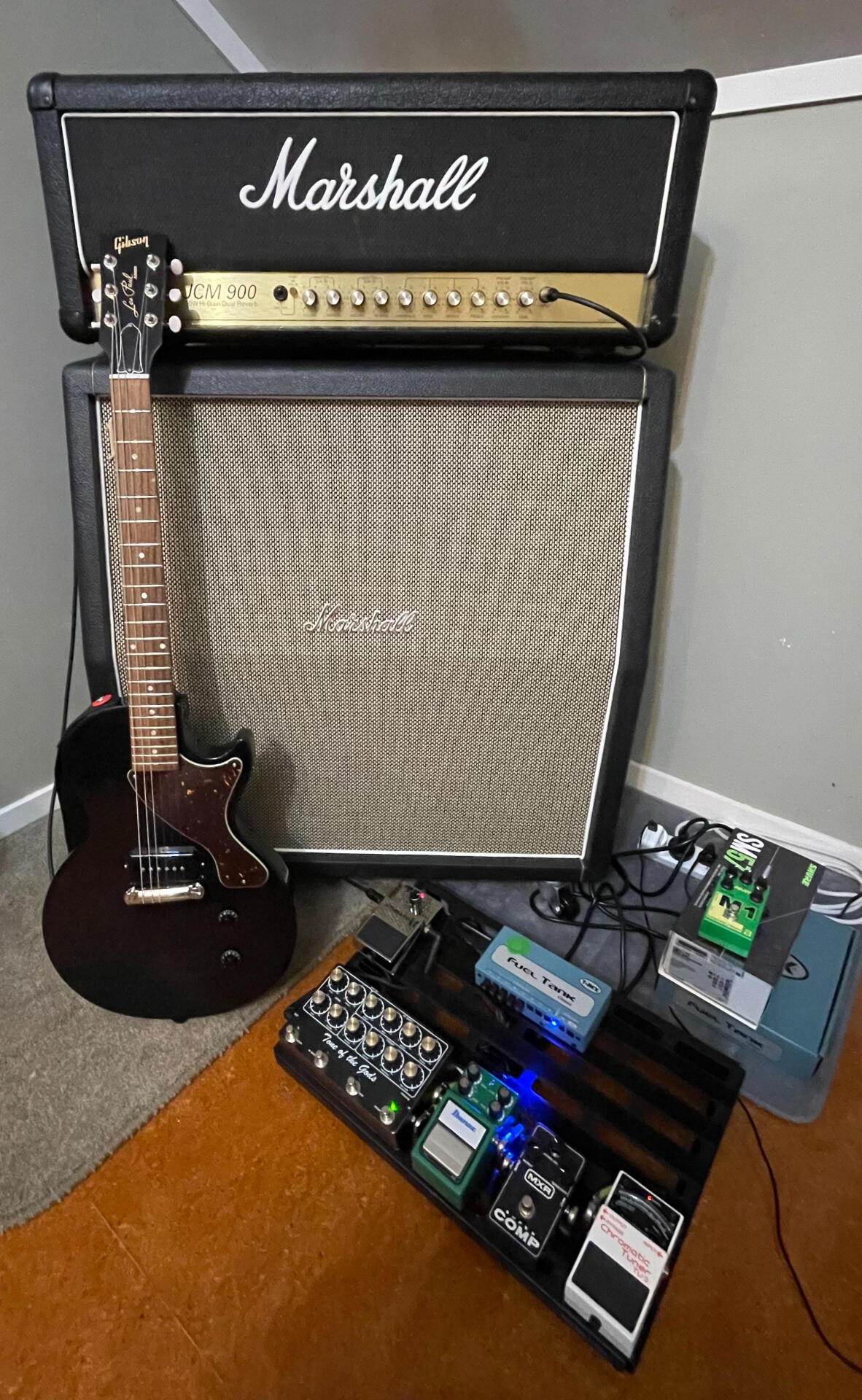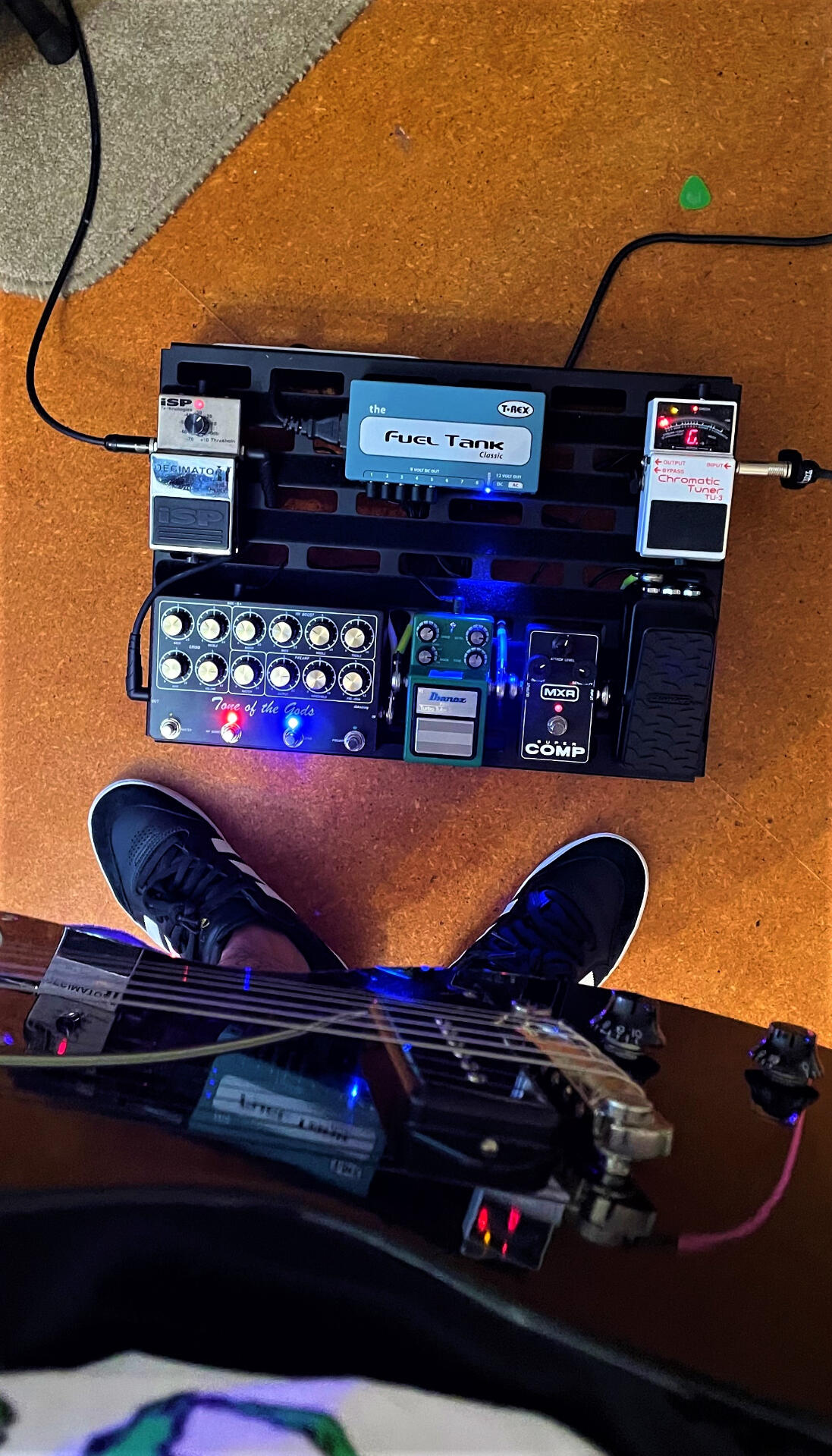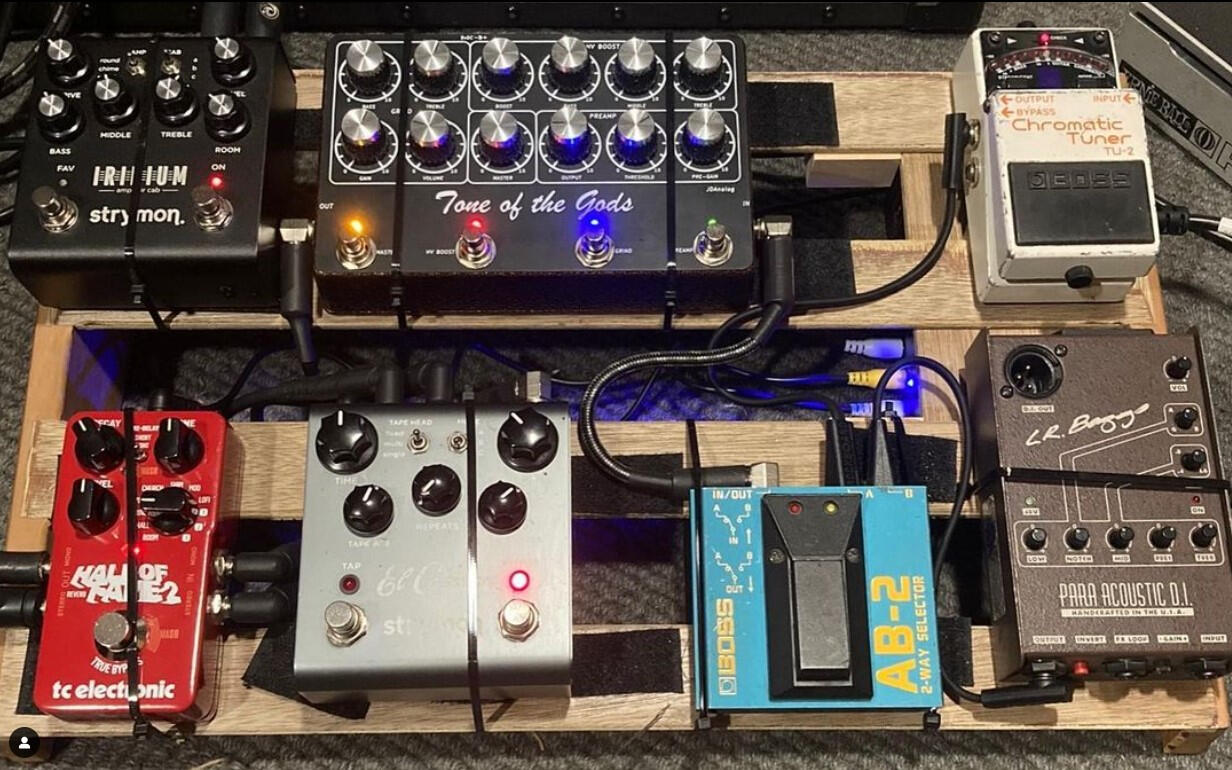 Acknowledgment:
When my son Jacob was 5 years old I purchased him a big adult version electronics platform, which came with a 300 page manual. By the time he was 6, he had constructed all the kits and memorized all resistor color codes off by heart. Years later, he now has two qualifications in electronics and electrical engineering. He runs his own website listed below, where he builds from scratch brand new old obsolete late 80s and early 90s computer motherboards, video cards, sound cards and so on, which all sell like hot cakes to a niche market. Jacob has been a very important part of this pedal build from day one, setting up the PCB CAD layouts, relay switching system, and his knowledge on many aspects of combining the circuits etc. For Myself, I have been playing with guitars, amps and effects for over 30 years, and worked in the biggest recording studio in New Zealand. I always had this pedal design as a passion to create. With the endless testing and many previous earlier designs that I sold for a number of years as a hobby, and now my son joining with his experience in electronics, we have made
The Tone Of The Gods Pedal a reality. :-)
Check out Jacobs website: https://monotech.fwscart.com/